From:
Poca TV
Date: 25 Jan 2009, 11:10

And so Poca TV is back where it all started a year ago:
at the largest purely roots reggae festival in Jamaica -
Rebel Salute 2K9 is the 16th edition of singer/producer Tony Rebel's Birthday Bash,
held, as has become tradition,
in Port Kaiser Sports Complex in St.
Elizabeth, Jamaica -




Poca is in Jamaica on a mission... related closely to the festival!
Keep it locked while the story unfolds...

For starters, Queen Ifrica in axxion!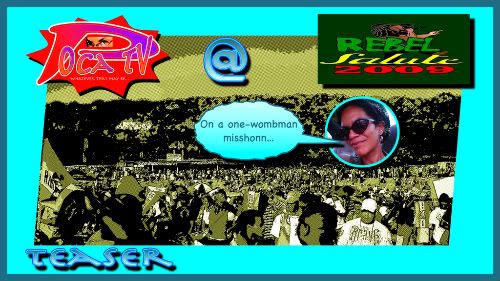 No sweet nothings, no glitter, no velvety touch...
Jusss Fiyah Muma blazing da message home!





How??? Just




4 more global freestyle multi-media journalizzimm
ina roootzz rebel styleee!





VOTE 4 IFRICA @ THE EME!

SEE HER BULLETIN BELOW...

***
Queen Ifrica has been nominated at the
"2009 Excellence in Music and Entertainment (EME) Awards":
1.
CULTURAL /POSITIVE ARTIST OF THE YEAR
2.
SINGJAY OF THE YEAR (FEMALE)
please show your support and go vote for the Fyah Muma on the official website:
http://www.emeawards.com/eme/vote.htm
Blessed love,
Flames Production Inc.